Recently, Ann Bunny released the user mobile phone preference report for Q2 2018, which analyzed the characteristics of mainstream mobile phones from different angles. The statistical period is from April to June this year. The statistical market area and data model are global markets. Android phone.
1, the most mainstream screen size: 5.5 inches
Market share: 20.26%
The data shows that the number of 5.5-inch screens accounted for 20.26%, although it was about 5% lower than Q1, but still ranked first; the second is 6-inch screen, accounting for 15.99%, the share increased significantly; ranked third It is 5.1 inches, accounting for 9.51%. It can be seen that the small screen still maintains a considerable part of the market share, but the momentum of the decline is obvious.
At present, the proportion of large-size screens has increased significantly, and it has gradually become the mainstream choice of current users. The total proportion of screens above 5.5 inches is more than 60% of the total.
2, the most mainstream screen resolution: 1080p (1080 x 1920 pixels)
Market share: 40.37%
At present, the proportion of 1080 x 1920 pixel resolution is the highest, reaching 40.37%, but compared with Q1 quarter, the proportion of 1080p resolution has dropped by about 12%; affected by the increase in market share of full-screen mobile phone, 1080×2160 Pixel resolution accounted for about 6% of the previous quarter, currently accounting for 19.41%, ranking second; in the third place is 1080 x 2160 pixel resolution, accounting for 19.41%.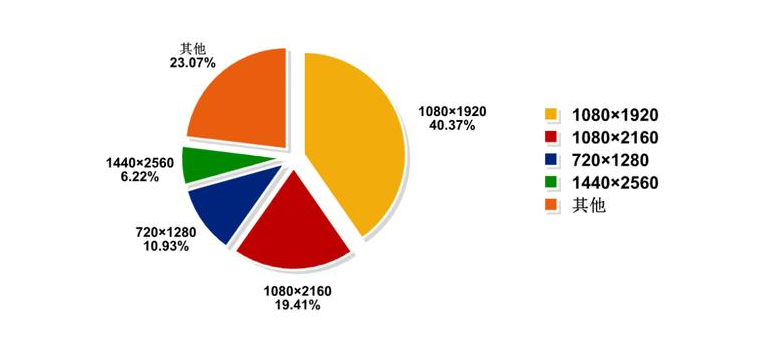 3, CPU market: Qualcomm accounts for half of the country
Market share: 54.44%
At present, the mainstream mobile phone processor brands are Qualcomm, Huawei, MediaTek and Samsung. Among them, Qualcomm accounted for 54.44%, ranking first. At present, the high-end flagship Android mobile phones on the market will almost always choose the latest generation of Qualcomm Xiaolong mobile platform. In addition, Xiaolong has 400/600 series products to locate the low-end market. The future potential of Nine Dragons is still very large, and it is expected that a single big situation will be maintained.
The Kirin processor ranks second in the list of Huawei and glory models, accounting for 14.35%. As Huawei's mobile phone shipments grow, its share in the market will also increase steadily.
MediaTek ranked third, accounting for 13.01%; Samsung ranked fourth, accounting for 8.76%, both market share has declined.
4, the most mainstream RAM: 4GB
Market share: 34.30%
The mobile phone of Universiade can give users a smoother experience, which is especially evident in the game running experience.
At present, the most mainstream storage specification for global mobile phones is 4GB, accounting for 34.30%. Although it is slightly down compared with Q1, it is still the standard configuration of many new mobile phones; the second is 6GB RAM. It is about 7% higher than Q1 and currently accounts for 28.85%. Ranked third is 3GB RMA, accounting for 16.65%.
Most of the high-end new products launched by domestic mobile phone manufacturers have started with 6GB RAM this year. This storage specification is expected to gradually become the largest market share.
5, the most popular ROM: 64GB
Market share: 44.03%
At present, 64GB ROM is still the most mainstream choice of mobile phone manufacturers and users, accounting for 44.03%, which is about 2% higher than Q1; 32GB ROM ranks second, accounting for 21.06%, which is about 6% lower than Q1; The third-largest 128GB ROM's large storage specification accounted for 17.63%, which was nearly 6% higher than the Q1 quarter.
At present, many entry-level mobile phone products are starting to start from 32GB ROM. From a practical point of view, the future share of 16GB ROM will be reduced, and the market share of 128GB ROM and 256GB ROM is expected to continue to expand.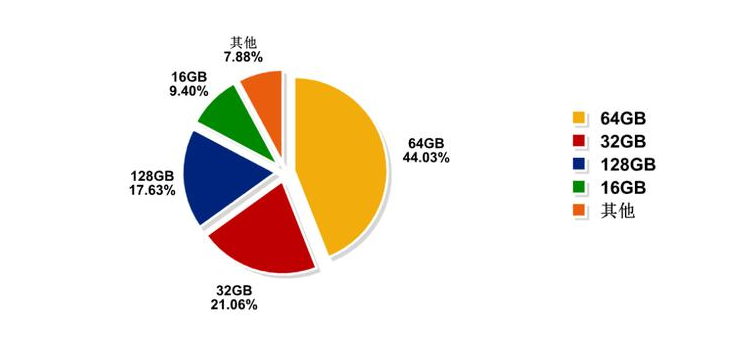 6, mobile phone system version: Android 8.0.0
Market share: 26.89%
As we all know, many new feature experiences require users to upgrade their phones to the latest version of the system. Nearly 80% of mobile phones have been upgraded to Android 7.0.0 and above.
The current version of the mobile phone system with the highest proportion is Android 8.0.0, accounting for 26.89%, which is 14% higher than Q1, and the upward trend is obvious. The second place is Android 7.0.0, accounting for 19.22%, which is lower than Q1. About 11%; Android 8.1.0 ranked third with 13.07%.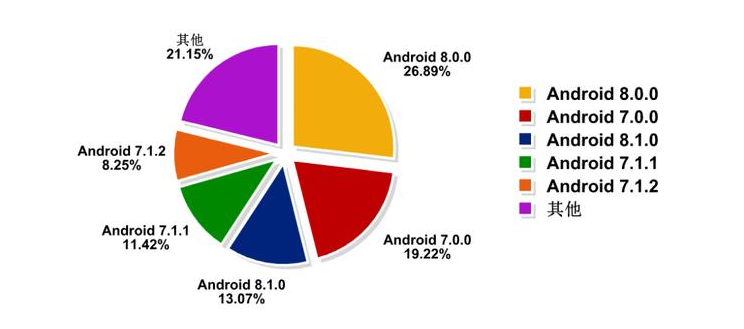 In general, the current mainstream mobile phones should have 5.5-inch and above screens, 1080p pixels, Qualcomm Snapdragon mobile platform, 4GB+64GB storage, Android 8.0.0 system and other performance. Although the list does not mention the distribution of the number of users' mobile phone cores, in terms of the current market situation, the eight cores should account for the largest market share. Is your mobile phone configuration the current mainstream?
Article source: Jin Yang Technology